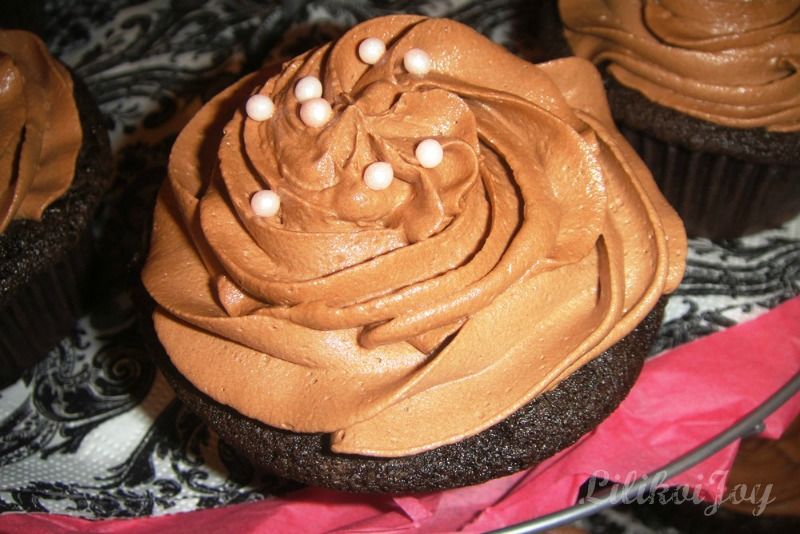 I was recently asked if I would be willing to donate a couple dozen cupcakes to our local middle school's Music Booster Annual Gala Dinner Auction. The money raised at this event goes toward festival fees, sheet music, instruments, scholarships, and transportation for the music programs at the school. "Sure!" I said, why not? How nice that someone thought enough about my cupcakes to suggest this to their planning committee. So yesterday I spent part of the day making chocolate cupcakes with chocolate buttercream frosting. One of the auction coordinators who is a friend of mine had come over to bring me a cupcake tower that they were going to give away with the cupcakes. It was nice, but it wasn't pizzazz-y enough for me. So I decorated it with black and white damask napkins and hot pink tissue paper that I already had. Much better.
The event was being held at the convention center in the next town over and since I knew my friend would be busy setting up for the event, I offered to take the cupcakes over. I've gotten pretty good at the whole transporting of cupcakes routine. A sweet friend of mine bought me the best cupcake transporter - it's collapsible, holds two dozen cupcakes, and is deep enough that they don't get squished even with the pile of frosting I like to put on the little cakes. Those suckers don't budge in that container! Unless I dropped it or turned it upside down, which I haven't done. Yet.
I loaded up the cupcakes in my handy cupcake container and drove to the convention center. I walked in and Whoa! Our middle school sure knows how to raise money for their music program! The room where the auction was being held was a frenzy of activity as volunteer moms were setting up the many items to be auctioned off. And the dinner area looked equally as interesting and lavish. I headed into the auction area, set up the cupcake tower, wrapped it in cellophane, and went on my merry way. I hope those little treats brought in lots of money for the middle school. The gala brings in a lot of money to the music program and I was happy to play a small part in this charitable event. It was fun to take something I love to do and use it to help our community.
Chocolate cupcakes with chocolate buttercream frosting. Who wouldn't bid on these beauties?
My handy little cupcake transporter. Thank you dear Hanna! It collapses down for storage. How great is that?