My son just turned 17 this week. 17!
How can that be when I'm only 27?!?
Alright, I might be exaggerating a little. He actually turned 17 last week. ;)
My baby is most excited about being able to see R rated movies "legally" now. I'm most excited about having witnessed my son grow up so much in the past year. He landed his first real job, he saved up enough money working full time all summer to buy himself a new car (a 66 Mustang that needs a lot of work), he scored well on his SATs, and he just got his braces off. Somewhere along the way, my baby turned into a young man that continues to amaze me with his determination and strong sense of independence. He's heading into his senior year of high school and next year at this time we'll be getting ready to send him off to college somewhere. I don't even want to think about the whole empty nest thing yet, so let's move on to the topic of dessert.
Yes, this makes me feel better.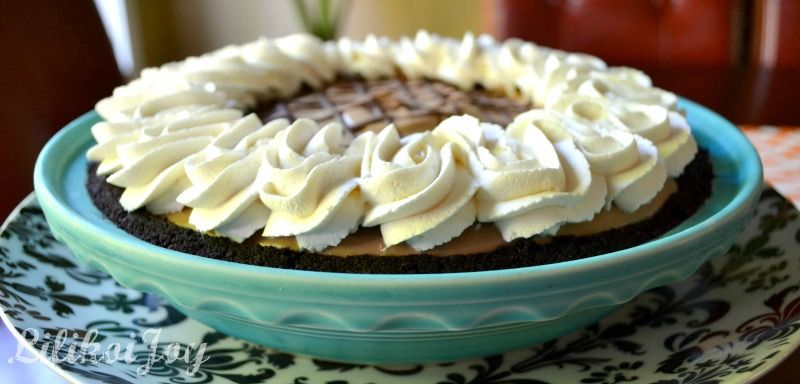 Each year I ask Jake what he wants for his birthday dessert and offer to make anything he wants. This year I showed him all sorts of delectable desserts that I've pinned to
my Pinterest boards
but in the end, he chose a dessert I've made for many of his birthdays called Chocolate Peanut Butter Cheesepie. This recipe has evolved over the years from the original recipe called
Celebration Cheesepie
that I started making almost 10 years ago when I first saw it on the Food Network as the winner of a pie contest. It's great as-is, but over the years I've changed up the original recipe to make it just the way we like it. Since we always have two celebrations for Jake's birthday - a family BBQ and the actual birthday celebration on his special day - this dessert usually gets made for one of those festivities. I'm tempted to rename it Birthday Pie since that's about the only time I make it!
I realize I've already posted this recipe last year for
my son's 16th birthday post
, but I'm writing about it again since I just made it again. This time I'm including more details and pictures of how to make it. This is a ridiculously easy pie to make. You don't even have to bake it, which makes it a great summertime pie. There are 4 separate layers that go into making this pie, but don't worry, they're all quick and easy. It's actually pretty fun to see it come together.
So here's how it all goes together:
Layer 1: Take 30-35 chocolate cookies (I use Nabisco Famous chocolate wafers, or you could probably use Oreos) and whiz it up in a food processor until they are fine crumbs. If you don't have a food processor, you could add this to a zip top bag and crush the hell out of 'em with a rolling pin until fine. Add in 1/3 to 1/2 cup melted butter (just enough to keep it together when pressed) and combine. Press into a pie plate to form the crust and stick it in the freezer while you make the next layer.
Layer 2: Now combine 4 ounces softened cream cheese, 2 cups whipped topping (like Cool Whip), 1/2 cup powdered sugar, and 1 cup of smooth peanut butter in a bowl or food processor and mix together until well combined. You can use 1/2 cup of peanut butter like the original recipe calls for, but why would you? If 1/2 cup is good, surely 1 cup is better.
Now plop it onto your chilled crust and spread it out like so: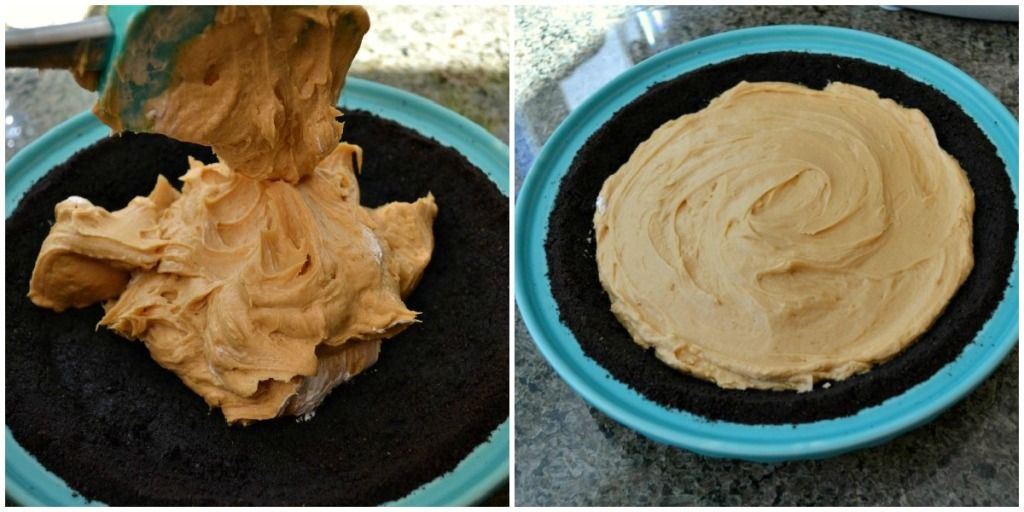 Mmm, doesn't that look good already? I could eat that right now, but there's more deliciousness to come so stick that baby back in the freezer while you make layer number 3.
Layer 3: After cleaning out your bowl or food processor, combine 4 ounces softened cream cheese, 1/2 cup powdered sugar, and 1/2 cup jarred hot fudge topping. Fold in 2 cups of whipped topping like Cool Whip. The original recipe actually called for 4 cups of whipped topping but that's too whip-py for us. I like it more cream-cheesy but sometimes I'm in the mood for something a little airy-er, so after I mix the ingredients for the third layer, I might fold in another cup of Cool Whip until it's the consistency I like. Now take that pie plate back out of the freezer and spread the chocolate layer right on top of the peanut butter layer out to the edges, like so:
Now stick it in the fridge until it firms up, at least an hour or overnight.
Layer 4: Before serving, take the pie out and drizzle some Magic Shell or chocolate syrup on top of the pie if you want, and THEN, how about adding some homemade whipped cream too? You can use a spray can or more Cool Whip, but I like homemade whipped cream. Here's a basic recipe I use for that: Add 1 cup of cold heavy whipping cream to a chilled bowl and whip it with a whisk or in your mixer until soft peaks form. Add a teaspoon of vanilla extract and 2 tablespoons of powdered sugar and whip it up until you get some fairly stiff peaks. Add to top of pie. I piped it on to make it all perty-like but you can just glob it on there and spread it around. It'll still taste good going down.
Now eat up!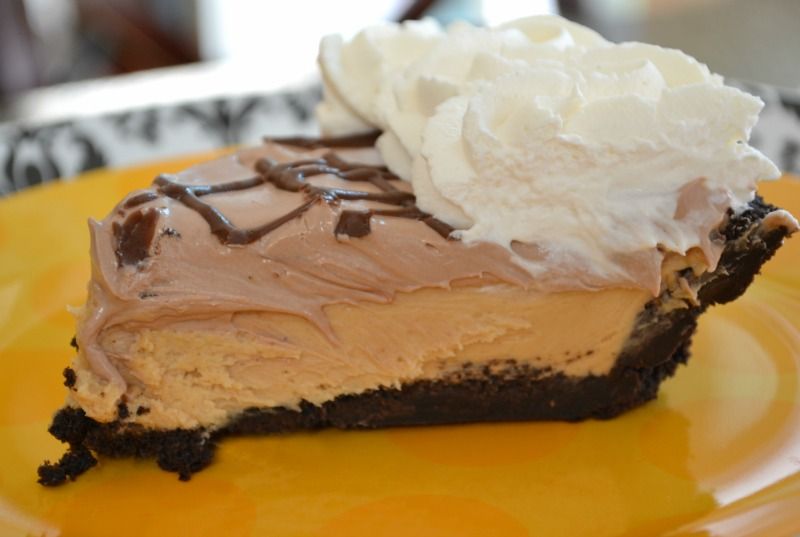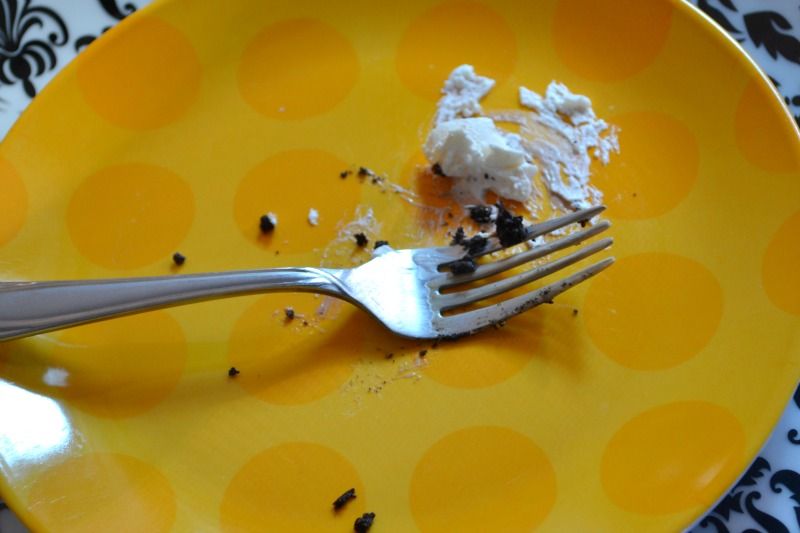 Linked to these great linky parties:
Skip to My Lou
,
Sumo's Sweet Stuff
,
Between Naps on the Porch
,
Debbiedoo's
,
Alderberry Hill
,
A Pinch of Joy
,
My Favorite Finds
,
Watch Out Martha!
,
The Dedicated House
,
Today's Creative Blog
,
A Bowl Full of Lemons
,
Home Stories A to Z
,
Homework
,
My Uncommon Slice of Suburbia
,
Coastal Charm
,
Family Home and Life
,
The NY Melrose Family
,
The Mandatory Mooch
,
Addicted2Decorating
,
At the Picket Fence
,
My Romantic Home
,
You are Talking Too Much
,
I Should Be Mopping the Floor