It's time for another soup recipe in this Autumn Pinspired Soups series! In case you didn't read last week's
post
, here's a quick recap of it: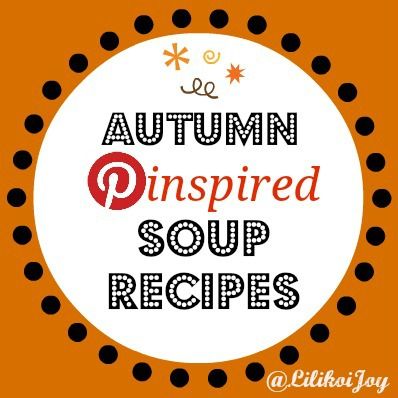 I love soup. I love Pinterest. I love having a Soup board on Pinterest. But so often I pin away without looking back at what actually caught my eye in the first place. So for the next month, I'm challenging myself to make some of the amazing looking soup recipes I've pinned on Pinterest. I'm aiming to try 1-2 recipes a week for the next month. What better time of year to make soup than now? Autumn time and soup making just go together.
Okay, now that we've got that out of the way, let's get started! The next recipe on my Pinterest board that inspired me is this
Award Winning Quinoa Soup
from
Confessions of an ADD Housewife
. I really enjoy her blog - she's got a great sense of humor and I can relate to many of the things she writes about. I only pinned this recipe a couple weeks ago, but it's been on my mind since I'm always trying to find ways to get more quinoa into our meals. In googling other similar soups, I decided to do a mash-up of several different recipes that I found online and adjust the ingredients to make it just how I and my family would like it, but I give props to the ADD Housewife for giving me the inspiration to try something new. Since my teenage son just made homemade bread (you read that right, and I didn't twist his arm or anything!), I made some grilled cheese croutons with it, because what goes better with tomato soup than grilled cheese sandwiches? These little croutons are a fun take on the classic sandwich.

This soup is spicy, hearty, and healthy with quinoa and lots of veggies. I even threw some beans in there for good measure but you don't have to. It's gluten free and vegan too if you use vegetable stock and leave off the croutons. You could even make the croutons vegan by using soy cheese and gluten free by using gluten free bread like the yummy Udi's brand. Here's my version of this spicy tomato and quinoa soup:
Spicy Tomato & Quinoa Soup with Grilled Cheese Croutons
Serves 6-8 I'm guessing from the pot full of soup
Ingredients:
1 cup quinoa, soaked and rinsed (see first step below)
1 T. olive oil
1 medium onion, diced
1 jalapeno pepper, seeded and minced
2 poblano chile peppers, seeded and minced
4 cloves garlic, minced
1 T. chili powder
1/2 tsp. chipotle chili powder
1/2 tsp. ground cinnamon
1 tsp. ground cumin
1 tsp. ground coriander
5 cups low sodium chicken or vegetable broth
1 - 15 oz. can tomato sauce
2 - 14.5 oz. cans fire roasted tomatoes (I pulse mine with an immersion blender right in the can since my family doesn't like big tomato chunks, but you can keep them all chunky if you like)
2 cans beans like Great Northern or kidney beans, rinsed and drained (optional but delicious)
1/4 cup cilantro, chopped (optional but delicious)
salt and pepper to taste
For croutons:
6 slices bread, somewhat firm or day old (for gluten free, use GF bread like Udi's)
6 slices cheese or soy cheese
2 T. Olive oil
1. It's best to soak quinoa overnight to get rid of any bitterness and help with digestion (here's a good basic
quinoa soaking tutorial
), but if you didn't plan ahead for that, go ahead and soak it now in 4 cups of water with a T. of vinegar while you prepare the ingredients for this dish. Rinse quinoa well in a sieve right before adding it to the soup pot in step 3.
2. In a large stockpot over medium heat, add 1 T. olive oil. Saute onion, peppers, and garlic until softened. Add chili powders, cinnamon, cumin, and coriander and cook for a minute.
3. Add broth, quinoa, tomato sauce, fire roasted tomatoes, and beans. Bring to a boil, then cover and turn heat down to simmer for 30-40 minutes. Season with salt and pepper to taste. Stir in cilantro before serving.
4. To make grilled cheese croutons, cut off crusts then layer a couple slices of cheese between two slices of bread. Make 3 sandwiches and cut each sandwich into 6-9 cubes (alternatively you could cook the sandwiches whole and cut afterwards but I wanted to brown all sides of the crouton so I cut them ahead of time. A little more delicate when cooking but these little crunchy bites are worth it). In a saute pan over medium heat, add olive oil and heat. Add cubes to olive oil and brown each side. Blot on paper towel.
5. Ladle soup into bowls and top with croutons.
Link parties:
The Mandatory Mooch, House of Hepworths, 52 Mantels, WTFab, At The Picket Fence, One Project Closer's The Better Half, Alderberry Hill, Hungry Little Girl