Happy Holidays! I just finished up a holiday craft project that was a lot of fun to put together. It came about after I organized all my Christmas pictures which I've been planning to make into a Christmas scrapbook *someday*. Who knows when that day will come, and I had such a great time going down memory lane while organizing them that I wanted to do something now to display them during the holidays. But I had so many pictures and couldn't decide which ones to display, so I figured, why not display them all in a collage? Then they're out for the entire season for everyone to see instead of stuck in a book that rarely gets looked at.
My nieces were here over the weekend and helped me with this project. We went to the craft store (they love that place!) and they picked out the ribbon and trim themselves. They loved looking at all the pictures and finding themselves sprinkled throughout the collage.

For the letters, I had initially bought black letters thinking that it would make this project look more modern, but when I added them to the collage, it looked a little too somber with all the black, so I painted them with a vanilla white craft paint and topped it with "sugar cube" glitter paint from Martha Stewart. You can't really tell in this picture, but the letters are glittery! Yes, I just exclamation-pointed "glittery"!! How can you not? It's subtle, but sparkly.
Here are the supplies I used to make this project:
Photos. Lots. I used Christmas photos from the time our son was born 18 Christmases ago 'til now, and even a few from before that. As part of my photo organization project, I had scanned the older pictures from prior to the digital era and now have them all filed neatly in online folders. See more info on pictures below.
Monogrammed wooden or cardboard letters from craft store - you can spell out anything you want. Since JOY is one of my favorite words in the English dictionary, naturally I went with that. "Noel" would be nice, or your family last name if it's not too long, or even just an initial if you wanted to scale this down.
Plywood board big enough for your letters plus enough room around them for your pictures. My hubby helped me cut a thinner piece of luan plywood for this project. I used 1/4" thick plywood, and I kind of wish I went with something a little thicker for more bulk. You can go horizontal or vertical. I didn't have the space for a large horizontal collage, so I went vertical.
Mod Podge - I used the matte.
Paint if you want to paint the letters, and a paint brush.
Fabric trim for around the edges, or you can paint the edge a contrasting color instead.
Ribbon for the top bow. I bought a pre-made Christmas bow but you can make your own if you're so inclined.
Print your pictures on regular printer paper. I chose to do black and white, but you can do color if you want. Don't bother using expensive photo paper. To get the pictures the size I wanted, I added all the pictures to a Word document, sized them as I went, and printed them all at one time in black/grayscale. You can get quite a few pictures on one piece of paper.
Now cut out all your pictures. Trim them neatly since you will see the finished edges in your collage, but don't get too obsessed or fancy. Neat is good 'nuf.
If you want to paint your letters, paint them and allow to dry. As I mentioned above, I initially bought black letters because I thought that would give it a more modern look, but changed my mind and painted them AFTER I glued them on, so I had to be really careful about painting the letters to avoid paint splatters on the collage. And I didn't even try to paint the sides of the letters, just the top. I wish I would have thought to paint them before I glued them down because I'd prefer the sides painted, but I don't mind the black sides with white sparkly top. It all worked out. Here's a close up of the glittered up letter since you really can't see the effect on the large pic. It's a subtle sparkle:
Below, my nieces are helping Aunty out with this project. Aren't they the cutest?!? They're 12 and 10 and are so fun to hang around with. In this picture, you can see the letters are still black, before I decided to paint them. We actually considered putting white polka dots on the letters to brighten it up (you can see one on the Y), but it was really busy with all the pictures and I ended up painting them white instead. I think if you did a smaller collage with just one monogrammed letter, the black would still look really good, but in this big project with several letters, it just seemed too dark for a festive Christmas decoration.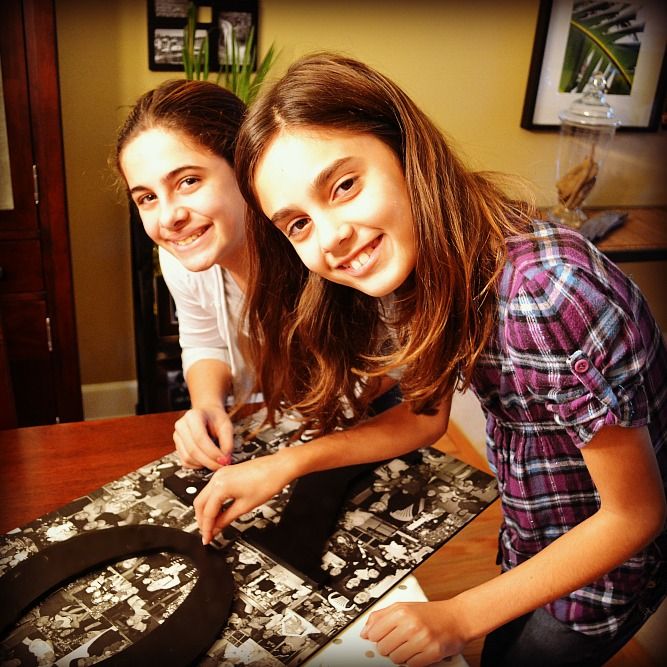 Okay, back to the project - Find the center of your plywood and lay out the letters, spacing them evenly in a way that looks good to you. You can see in picture #1 below that I found the center with a ruler, marked it with a pencil, and placed the O smack dab in the center, then spaced the other letters from that.
Actually, I'm not sure you can see the pencil lines so well, I hope you can.
Next, I traced the letters onto the plywood just to give me a reference of where they would be. I didn't want to put pictures where it would get covered by a letter.
In picture #2 above, I laid out my photos where I wanted them to be. I didn't glue them down yet, just did a dry run as a general reference of where I wanted the pictures to be. Starting in one corner, I started gluing one picture at a time by using Mod Podge and brushing a good amount of it on the back of each photo with a paint brush. Carefully place the photo on the board where you want it to be. Once you lay a picture down, it's difficult to move it without tearing it, so take your time to position it and smooth it out and press out any air bubbles. This takes awhile, so pull up a chair, turn on whatever season of Downton Abbey you're watching, and go at it. As you add pictures, you'll find your dry run pattern getting messed up a little, but continue to glue and overlap edges slightly and adjust as you go along. It all manages to work itself out just fine.
As you're gluing along, avoid putting pictures too far inside your letter lines. I wasn't exact, and as a matter of fact, it looked better to overlap the pictures inside the lines a little so you don't see raw board peeking through once you put your letters on. Just don't put Great Aunt Sue's head inside the letter so it appears that there is a body without a head in your collage.
Once you have all your pictures glued down, let dry for about an hour. Trim any pictures that are sticking out over the edges if you haven't done that already. Then coat the whole thing evenly with Mod Podge. I was a little concerned about the ink from my printer smearing my pictures with the topcoat, so I tested it first. It didn't smear at all but I suggest you test yours first since our printer inks might be different. Let the topcoat dry, then add another coat of Mod Podge and let dry.
Glue your letters onto the board with a hot glue gun. Since you probably covered up a lot of your lines, just play around with the letters until they look right and hot glue them right onto the board. If you notice some plywood peeking through even after you put your letters on, you might want to take a black sharpie and cover that up. The black disappears into the background with all the other pictures, but the plywood color kind of sticks out.
Add trim around the edges using a hot glue gun, or paint the edge if you aren't going to use a trim. Here's a close up of the red trim. I think it gives it
pizzazz
: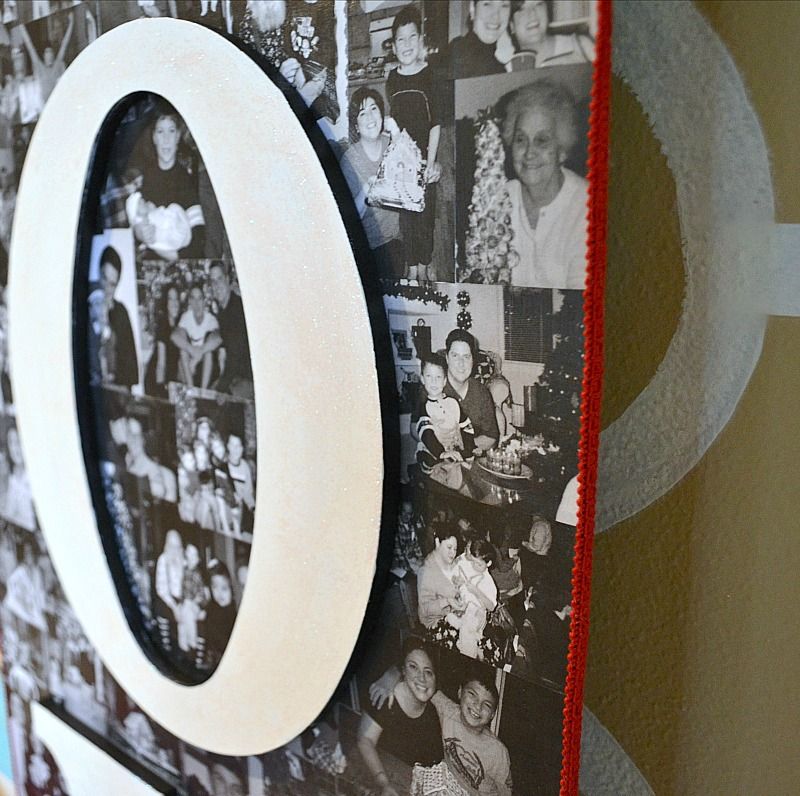 Now add your bow at the top (I hot glued the ends onto the back). I also lopped off the tails and glued them to the bottom too which you can see in the #3 picture above.
(update 12/3/12: don't try hanging this board off the bow, that's just decorative. I added a picture hanging hook to the back of the board to hang it from).
And that's it! This project wasn't expensive since I had some of the supplies already on hand, so for the cost of the letters (used my Hobby Lobby coupon!), plywood, trim, and bow, we now have something we can hang each year during the holidays that reminds of Christmases past. Once Christmas is over, I'm totally going to make a smaller one with our last name initial in a square to hang year round!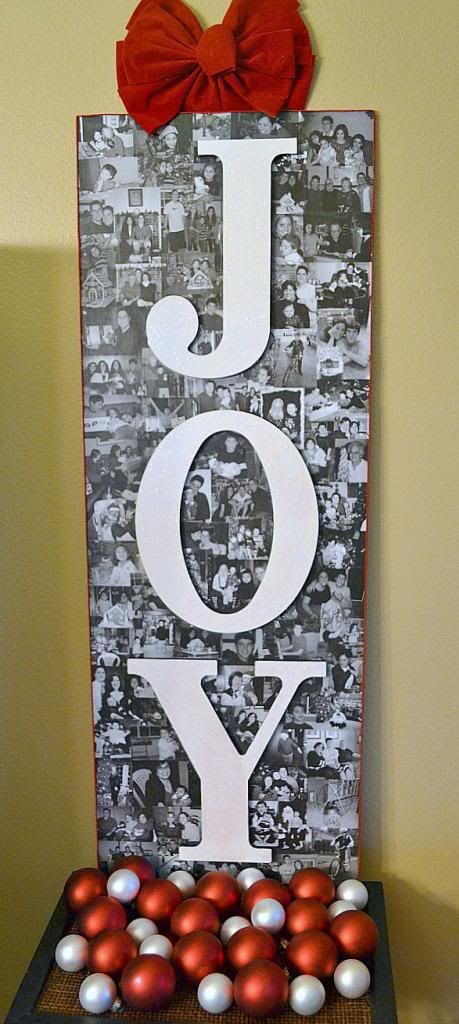 Joy, Joy, Joy, Joy, Joy! Fa la la la!
Sorry about the somewhat dark pictures. It's hard to take a good picture of a black and white photo project on a rainy Seattle day. Even in the middle of the day with all my lights on, it's still dreary! I'm ready for some warm sunshine-y weather now!
Featured on:
Top This Top That's Weekly Wows
Tatertots & Jello
Craftionary
Keeping It Simple
The Blackberry Vine
The Decorating Files
Here Comes the Sun
Link party!
At the Picket Fence, French Country Cottage, Stuff and Nonsense, Liz Marie Blog, Craftionary, Redoux Interiors, Common Ground, Finding Fabulous, Kitchen Fun with My 3 Sons, Here Comes the Sun, House of Hepworths, Tatertots & Jello, A Pinch of Joy, Craft-O-Maniac, Keeping It Simple, C.R.A.F.T., Making the World Cuter, Mad in Crafts, Clairejustineoxox, Between Naps on the Porch, Coastal Charm, Today's Creative Blog, Home Stories A to Z, My Uncommon Slice of Suburbia, Blackberry Vine, Homework, Savvy Southern Style, Handy Man Crafty Woman, Gingersnap Crafts, Elizabeth & Co., NY Melrose Family, DIY By Design, The Mandatory Mooch, House of Hepworths, Centsational Girl, Serenity You, Alderberry Hill, Watch Out Martha, The Gunny Sack, Skip To My Lou, Shanty 2 Chic, Glitter Glue and Paint