Follow me on Pinterest! C'mon, it'll be fun! :)
I've been meaning to post this project for awhile but I'm just now finally getting around to it. You got to see a peek of this wall when I posted my
Joy Holiday Photo Collage
in November. Last summer while my husband was in Japan for a few weeks, I walked by this wall in the front entry and decided, "that wall needs a change!" and just like that, I painted it.
Surprise, honey!
He never knows what to expect when he comes home from a business trip.
This wall is the first wall you see when you enter our home. For the past 6 years, it's been the reddish-orange color that you see below, and while I really love the color, I've lived with it for awhile now and just wanted something different. Here's what the wall looked like before I painted it:
Before: Wow, there's a lot of color goin' on!
I love me some cheerful orange, green, and aqua colors,
but looking back at this pic, maybe it was a bit too much all together...
I painted the wall the same beige color that's on the rest of our downstairs walls. Painting it the same color made it much more cohesive with the rest of the house, but it was a little...
uninteresting
, especially after living with such a bright color for so long. Neutral doesn't have to mean boring though, so I decided to add a pattern to the wall.
I thought about adding a neutral colored wallpaper at first, but I have a love/hate relationship with wallpaper. When we moved into our home almost 13 years ago, there was 80's wallpaper in almost every room. It took us about 8 years but eventually we went through and stripped it all off, one room at a time, including our front entry here. Stripping wallpaper is a dreadful job that tries even the most patient person, especially when much of it comes off in one inch pieces. I shudder just thinking about those memories. Wallpaper has made a big comeback and there are some beautiful designs out there. I was so tempted to put some up, but knowing me and how I like to change things up after a few years, and knowing how much I dislike taking down wallpaper, I decided to hand paint a pattern onto the wall using a template I made from cardboard. I used a similar technique when I made a large canvas art piece for
our powder room makeover
:
Not the best lighting since there are no windows in the powder room-
it's so hard to get a good picture in there!
I'm sorry to say that I didn't take any "during" pictures while I was painting this wall, but I'll explain how I did this as best I can. You can also refer to the
painted wallpaper tutorial
from
Jones Design Company
, which is where I got the idea to create the artwork above. Even though the pattern is different for this project, the process is still very similar.
How to Paint This Patterned Accent Wall Using a Cardboard Template
What you'll need:
Paint (two colors of your choice) - I used low VOC latex paint
Paintbrushes
Piece of cardboard large enough to create a template, like from a box
Scissors
Two circular items like plates (see below)
Ruler
Level (preferably a longer one)
Pencil
Large pink eraser
1. Paint wall the base color of your choice according to manufacturer's directions. Prime if necessary beforehand or use a paint that includes primer. Let dry.
2.
Create a cardboard template:
We're creating and cutting out a shape to use to trace that shape on the wall. Later we'll paint inside the lines that we traced. It's not like a stencil where you paint inside the negative space of a cut-out pattern, it's kind of opposite of that, if that makes any sense (
you could probably turn this into a stencil if you'd rather paint inside the negative space by using plastic blank stencil sheets and using that to stencil this pattern onto the wall, but this cardboard template was free and I didn't have to run to the craft store to get it. Stenciling is a whole other tutorial
).
Using a ruler, a level to keep the lines straight and parallel, and a couple plates or bowls to make the circles, I drew a simple design on a piece of cardboard and cut it out. You can use whatever size circles you want to scale it bigger or smaller. The plates I used were 7" and 9" in diameter. I used the large plate for the outer circle and then centered the smaller plate inside the bigger circle to make the inner circle. I drew the straight lines that extend from the 4 "quadrants" of the circle using a ruler and a level, making sure they were aligned with the center of the circle and evenly spaced around the circle (see below). The straight lines that I used for my cardboard template were 1 1/2 inches long. The picture below is a re-creation that I drew on a piece of paper, but I ran out of space on the vertical sides so the lines in this drawing aren't actually 1 1/2 inches, but you would make your lines all the same length to whatever length you think looks right. Cut out your pattern neatly along the lines:
2.
Draw the pattern onto the wall using your template:
Starting at the top of the wall, find the center of the wall and mark it lightly with a pencil. I chose to start at the center and work my way out to the edge of the wall since it makes the pattern look more symmetrical with the mirror that is also centered on the wall. Butt the template up to the top of the wall, centering it on the center mark, then lightly mark the top horizontal lines of the template onto the wall (see pic below to see what horizontal lines I'm talking about). Using a level and pencil, draw a level line lightly along the entire width of the wall where you marked the horizontal lines of the template
(you'll have to erase a lot of these lines later, so draw them really light)
. This will be your working line to keep your pattern straight across the wall.
When you make your own template, you'll take your time to make sure everything is lined up and cut out much neater than this one - this was "cut out" on the computer using MS Paint and is only meant to be a visual aid (and not a very good one at that!) since I no longer have the original cardboard template.
Lining up the template along the level line as shown above, trace the pattern onto the wall with a pencil. Since I was painting the pattern white, I used a white colored pencil (or you can use a regular pencil with a really light touch) to trace the template onto the wall. Keep moving the template and tracing the pattern across the wall along your level line.
After the first row is completed, line up the template underneath the first row where you want it to be, draw a level line across the wall and keep on tracing. Do each row until you've worked your way down the wall.
3.
Paint inside the lines:
Next comes the most time consuming part - painting the pattern! Using a small brush (I used a 1 inch angle brush), paint inside the lines with the color of your choice. I used a white wall color that we already had, but use whatever you like. You can also use a similar tone color to the base wall color for less of a contrast, or go with a totally different bold color, or even use the same color as your base color but with a different sheen to get a subtle tone-on-tone effect. Keep in mind that this is a handpainted pattern - if perfect lines are what you're after, you'll have to find another way to do that. I like seeing the paint strokes and imperfect lines of something that's handpainted. If you have a somewhat steady hand, it will come out just fine, especially when you step back from it and see the big picture instead of scrutinizing every line from 2 inches away.
The painting part took me so much longer than I thought it would. It took me 3 days to finish this. I'd paint a few circles, take a break, paint a few more circles, get some work done, do more painting, etc. By the end of the third day, my neck and hand ached from all the painting but I was so ready to be done with this wall that I stayed up until 1 in the morning just so I wouldn't have to deal with it another day. I probably should've added "patience" and "ibuprofen" to the list of materials you'll need for this project.
If you want the pattern to look more opaque, paint a second coat after the first coat is dry. I had the paint can sitting by my front door for a month before I admitted to myself that I was never going to paint that second coat.
Just tell yourself that it's artistic with the variation in coloring and you'll be happy with it. :)
After the paint is completely dry, gently erase any visible pencil lines using a large pink eraser, or you can even paint over them if you'd rather. I found the gray waxy erasers just smudged the pencil line instead of erasing it, so I prefer the classic pink erasers. Plus they're pink! :)
I didn't have to buy anything for this makeover since I used paint and supplies we already had. I decorated the space mostly the same but "shopped my home" for the other stuff you see in the after pic, including the palm frond that needed to be trimmed off a huge potted palm I have in my living room. If you love to decorate, shopping your own house is a great way to get a fresh new look without having to buy new things all the time. I move things around several times a year and am regularly asked, "Is that new?" when usually it's something I've had for awhile in another part of the house or something I've painted to make it look new. I love a no cost makeover using things you already have!
I'm working on another project for our bedroom right now that happens to use this same geometric pattern in it, and coincidentally, my husband is out of town again on business as I'm doing it. He misses out on all the fun! I hope to have my latest DIY project done before he gets back and I'll try to post that soon. Maybe I can get it posted before he comes home.
Surprise, honey!
:)
(Update: I finished this project I was talking about, check it out here: Dressing Table Gets a Makeover)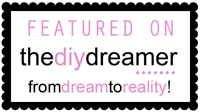 Link parties!
Coastal Charm, Sarah Dawn Designs, My Uncommon Slice of Suburbia, Today's Creative Blog, The DIY Dreamer, Homework, The Dedicated House, A to Zebra Celebrations, Smart School House, The NY Melrose Family, Savvy Southern Style, Elizabeth & Co., The Taylor House, House of Hepworths, Craftionary, Finding Fabulous, Housewife How-Tos, I Should Be Mopping the Floor, Adorned from Above, Thrifty Decor Chick, Suburbs Mama